Famous Brands A-Z:

Top Brands:
View information about JetBlue. You can view the history of the JetBlue company and their impact on branding.
JetBlue

The story of JetBlue:
It's the sixth largest airline in the U.S. and has some of the lowest fares around.
Founded in 1998 by David Neeleman…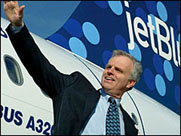 …under the name "New Air", jetBlue – as it likes to be called – started operations in February 2000. The plan was to be a low fare carrier like Southwest Airlines with extras like TV in every seat, satellite radio and other forms of in-flight entertainment.
After the Nine Eleven attacks, jetBlue was one of few airlines turning a profit, although it showed a loss in the fourth quarter of 2005.
It had it roughest turbulence in February, 2007, when it was forced to cancel 1700 flights due to winter storms. Neeleman was replaced by David Barger as CEO.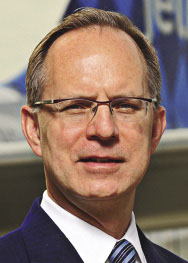 Neeleman, the founder, became nonexecutive chairman.
The airline opened a new hub at JFK in 2008, called "T5".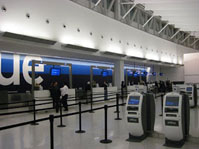 jetBlue mainly serves destinations in the U.S. and the Caribbean and uses humorous commercials to win passengers.
It's headquartered in Long Island City, Queens…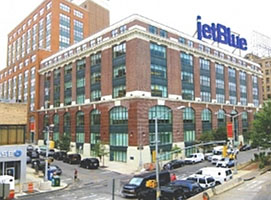 …not far from its main operating base at JFK Airport.