Famous Brands A-Z:

Top Brands:
View information about Nabisco. You can view the history of Nabisco and their impact on branding.
Nabisco

The story of Nabisco:
Their name is seen in the pantries of cookie and cracker lovers around the world. This company boasts the biggest bakery on the planet and has been going strong for more than a century from their original hometown in New Jersey.
In fact, the company's birth started way back in the days when the United States got its start. In 1792, the Pearson & Sons Bakery opened in Massachusetts and their specialty was a biscuit called "pilot bread", designed for seafarers on long voyages. By 1889, William Moore bought Pearson & Sons and six other companies and started the New York Biscuit Company.
Moore then merged his properties with the American Biscuit Company in 1890 and the combined operation was called the National Biscuit Company in 1898. Nabisco is an abbreviation of the National Biscuit Company, drawing the first two or three letters from each of those words.
When Nabisco started in 1898, it had 114 bakeries across the country. Early (and main-stay) products included Uneeda Biscuits, Fig Newtons, Animal Crackers, Lorna Doones and Oreo cookies.
The shape and look of the Oreo…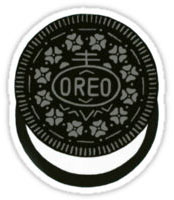 …is trademarked.
Other mergers followed in later years, with Nabisco merging with Standard Brands in 1981, which combined with R. J. Reynolds in 1985. Kraft General Foods bought out Nabisco's cereal brands in 1993 and by 2000, Philip Morris bought Nabisco and merged it with Kraft Foods. Kraft split operating in 2011, making snack foods a separate company called Mondelez International.
Nabisco's Chicago plant…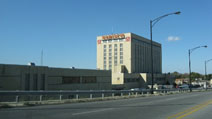 …is the biggest bakery in the world, totaling 1,800,000 square feet.
But the company ran afoul of the man elected President in 2016, when Donald Trump stopped eating Oreos because a Nabisco operation was moved out of the U.S. to Mexico.
Sold internationally, Nabisco products are named "Christie" in Canada.

In the U.S., it commercials are as well-known as its snacks.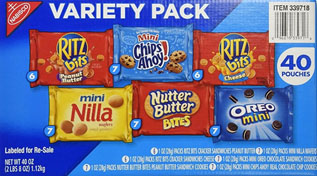 Like, Chips Ahoy.
Oreos.
And Ritz crackers.
And over the years, the company's U.S. logo changed with the times.

Nabisco is still headquartered in East Hanover, New Jersey and is currently a subsidiary of Mondelez International, based in Deerfield, Illinois – a Chicago suburb.