Famous Brands A-Z:

Top Brands:
View information about Pepsi. You can view the history of Pepsi and their impact on branding.
Pepsi

The story of Pepsi:
It's one of the world's biggest soft drink brands but got its humble start in 1893 as "Brad's Drink." That was the name chosen by its inventor, Caleb Bradham…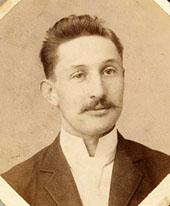 …in New Bern, North Carolina.
He made it in his drug store, where the drink was sold.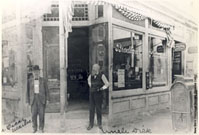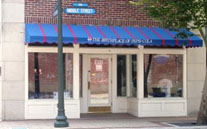 But he renamed it Pepsi Cola, five years later, because its recipe included the enzyme pepsin and kola nuts. The original formulation included vanilla and sugar and was touted as a good tasting drink that would boost energy and help digestion. (Pepsi's made today with high fructose corn syrup.)
By 1903, Bradham moved operations from his drug store to a rented warehouse and by 1903, started bottling the stuff in six ounce bottles, nearly tripling production to more than 19,000 gallons.
Over the years, the look of the brand changed as the logo was revised and updated.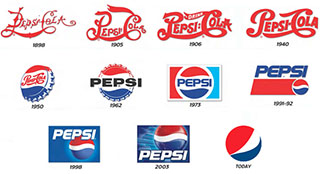 Like the rest of the world, Pepsi Cola suffered during the Great Depression and went into bankruptcy. A big part of the reason – unstable sugar prices since World War I. Ironically, between 1922 and 1933, Coca Cola was given the chance to buy out Pepsi and refused. Pepsi ended up Coke's biggest competitor.
Pepsi did author an innovation in 1936 when it introduced the 12-ounce bottle, at a nickel apiece. That was nearly twice the amount of a similarly priced bottle of Coke and it led to a famous radio ad campaign.
Helped by these ads, Pepsi's profits doubled from 1936 to 1938.
In the 1940's, Pepsi-Cola's President Walter Mack (pictured here sitting on Pepsi bottlecaps) …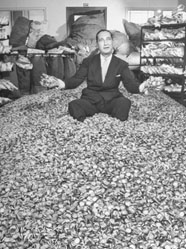 …noticed an underserved market: Black Americans and he started directing ads to the black community.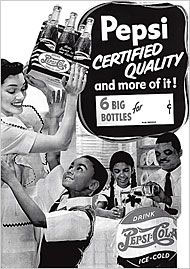 "Pepsi-Cola hits the spot" was the theme of ads from the 1930's through the late 1950's.
By 1975, Pepsi issued the Pepsi challenge…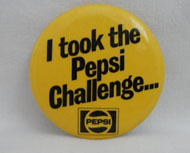 …a blind taste test comparing it to Coke. It led to Coke's disastrous introduction and quick scuttling of "New Coke".
Film actress Joan Crawford started pitching Pepsi too…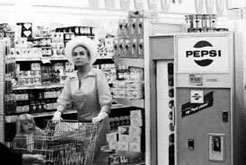 …after she married then Pepsi President Alfred Steele…
Another popular ad campaign enlisted pop superstar Michael Jackson
Pepsi's sponsored major professional sports like baseball, football, basketball and hockey. And it's been featured in movies like "Home Alone", "Wayne's World" and "Back to the Future."
Pepsi is headquartered in Purchase, New York…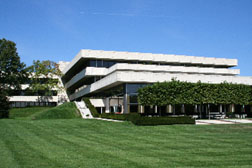 …just north of New York City.