Famous Brands A-Z:

Top Brands:
View information about Allstate. You can view the history of Allstate and their impact on branding.
Allstate

Allstate
Insurance
April, 1931
The story of Allstate:
It's the second largest personal policy insurer in the country and got its start as a spin-off company for the giant retailer, Sears Roebuck. But the ties to Sears go even deeper than that.
Sears held a national contest in 1925 to choose the name for a new brand of car tires. Allstate was the winner and Sears got the trademark. The idea for an insurance company using the Allstate name was developed in 1930. The hook: sell auto insurance by direct mail. Which is what they did in April, 1931 – in addition to offering policies through the Sears catalog.
Ten years later, New York State started requiring drivers to carry auto insurers and other states followed. A decade later, there was a booming market for (mandated) auto coverage.
At around the same time, in the 1950's, Allstate introduced its famous slogan: "You're in Good Hands!"

Through the 1950's, Allstate added other products, like fire and homeowner's insurance.
In 2003, the company added actor Dennis Haysbert as a spokesman.
And actor Dean Winters joined in 2010 in the "Mayhem" series of ads.
Sears spun off Allstate in 1993 but the insurer maintains its Illinois' roots with its headquarters in Northfield Township.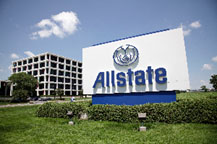 It also owns and operates San Francisco based Esurance.