Famous Brands A-Z:

Top Brands:
View information about Pfizer. You can view the history of Pfizer and their impact on branding.
NBC

NBC
Broadcasting
June 19, 1926
The story of NBC:
It was the first of the major broadcast networks. In fact, another of the big three broadcast networks grew out of NBC, the National Broadcasting Company.
Its roots are in radio and it was developed by David Sarnoff…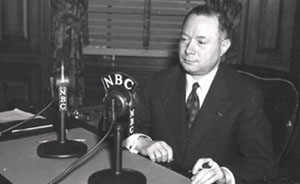 …who gained national attention by purportedly working a telegraph key with information about the sinking of the Titanic in April, 1912.
Sarnoff followed developments in wireless radio and started a radio station at 660 on the AM dial in New York City, call letters WEAF. The idea was to provide programs to help him sell the radios of the parent company he ran - RCA, the Radio Corporation of America.
So, Sarnoff added properties in other major American cities, like Washington, D.C. and linked them together, airing the same shows at the same times, effectively launching the National Broadcasting System.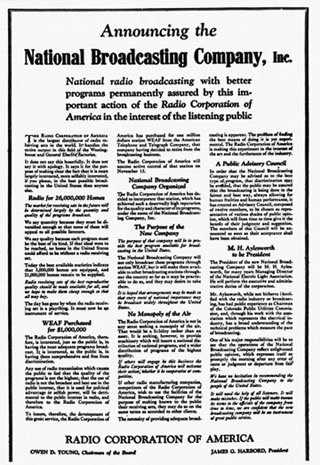 Big stars like Jack Benny, Bob Hope and Dean Martin & Jerry Lewis…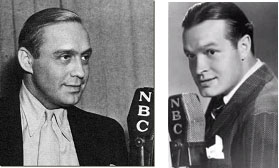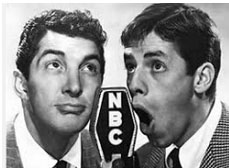 …had their own shows and NBC grew from its original "Red" network of stations to a separate "Blue" network of stations. The colors denoted the pushpins that were used to identify affiliated stations. And the network used a distinctive series of chimes as an audio trademark.
Later the FCC, answering monopoly complaints, would force NBC to sell off its Blue Network and in 1945 it became ABC – the now competing American Broadcasting Company.
Ever the innovator, Sarnoff also pushed the idea of video to go along with his radio audio – in other words, television. Here he is at the RCA Pavilion at the 1939 New York World's Fair.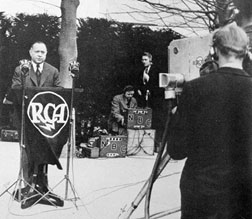 The first televised sports event happened on NBC in New York City in August 1939, when the Brooklyn Dodgers played the Cincinnati Reds at Ebbets Field.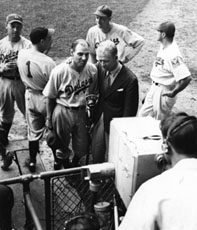 Again, the star system ruled and popular NBC TV shows from the Golden Age of Television included Milton Berle's immensely popular Texaco Star Theatre, Bonanza and the Tonight Show with Johnny Carson.
NBC was also known for a strong news division starting in the radio days…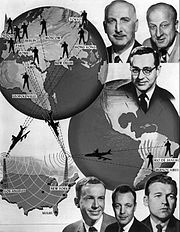 …into the early TV era with the Huntley-Brinkley report, featuring co-anchors Chet Huntley and David Brinkley.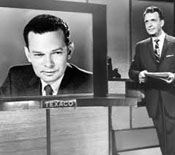 NBC is also the decades long home of the "Today" show and the CNBC financial network.
The look of the NBC logo changed with the times and its audio and visual identifiers…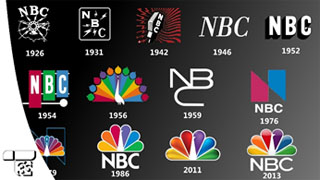 NBC was also a pioneer in color TV programs in the mid 1950's and the 1960's, and became known as the Peacock network.
NBC maintains its strong presence near Radio City in New York.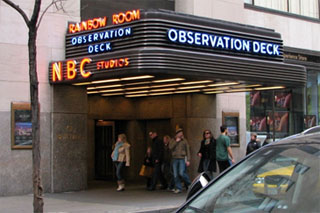 …and has production facilities in Burbank, California.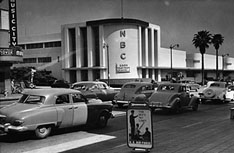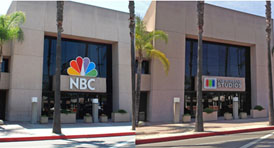 RCA sold NBC to GE in 1986, and that was the beginning of the end of the radio division. GE eventually sold the TV network and stations as part of NBCUniversal to cable TV operator Comcast – the network's parent firm today.